Happy Tuesday! Today I've got two simple but fun cards featuring the 'Coffee Understands' stamp set by Picket Fence, a rainbow of Distress Oxide Inks & two different stencil techniques. Picket Fence is a new company in the SNS store this year, and I've been loving what I've played with so far!
For my first card, I started with this fun, scribbly 'Thoughts' stencil by Crafters Workshop. I'd been playing around with some glitter texture paste and had a bit left on my spatula, so I decided to add some glossy transparent texture paste to it and swipe it through this stencil onto white cardstock. There's just a hint of blue glitter amidst the clear, shiny texture it left…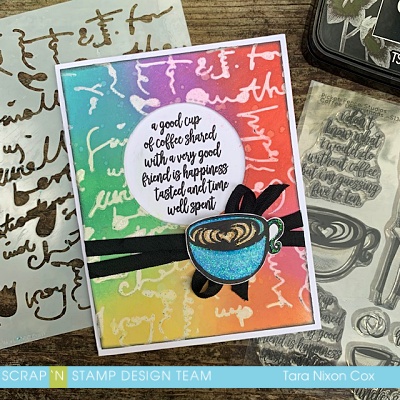 I selected a rainbow of Distress Oxide Inks and blended the colors over the texture paste, going back over the colors a couple of times to get a nice smooth blend and a pretty mix of colors. I decided on a MFT stitched circle die to fit one of the sentiment stamps from the Coffee Understands set, and chose to cut out a window from my background rather than layering it on top. Once I cut my window, I positioned the frame I created on a white card base and stamped through it in black ink. I colored the large mug from the set with Watercolor pencils, then applied some Nuvo Glitter Drops over the entire mug to kick up the glitter factor on this card!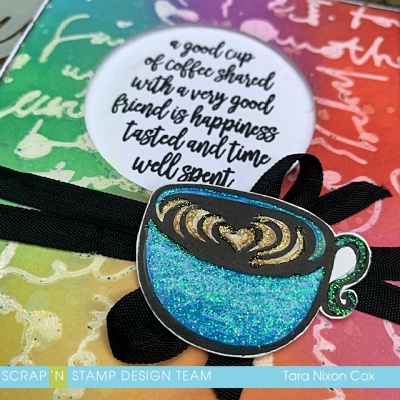 After wrapping black ribbon around the rainbow panel, I mounted it onto the white card base with foam tape to give a bit of dimension.
I had a colorful circle die cut left over… so I decided to make another card! I used the two smaller coffee cups from this stamp set as my images on that circle.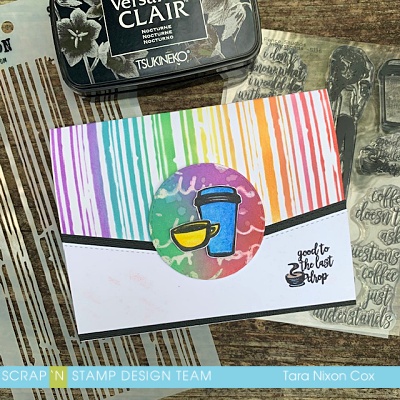 This time I decided to ink up a rainbow through a striped stencil I have by Tim Holtz. I used the same rainbow of Distress Oxide Inks as I used on the previous card. I kept the stencil in line by adhering it to both the card (the bottom half which I planned to cover with a white panel of cardstock) and my work surface. It was very easy to repeat the pattern to go across the entire card front, since these stripes have random spacing between them.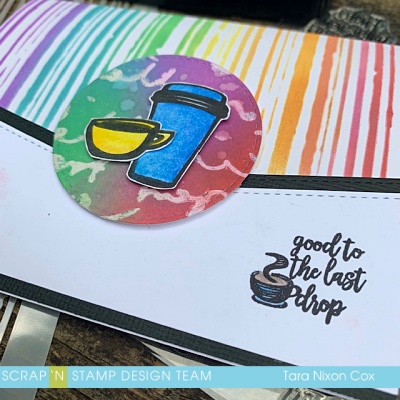 I added a white stitched panel, edged in black (both of which were die cut with a MFT stitched edge die) to the bottom of the card. The small 'good to the last drop' sentiment from this set is stamped on it.
Here's a look at my two rainbow cards featuring the Coffee Understands stamp set by Picket Fence. It's such a great set and I can finally say I've used every stamp on it!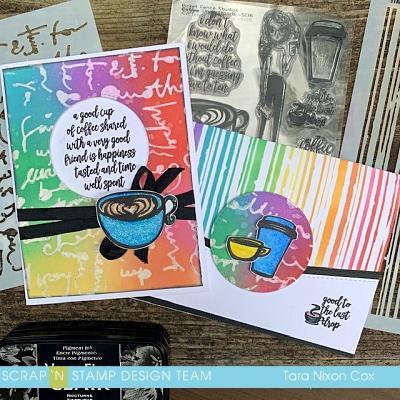 Inky hugs,
Tara