Good morning everyone! Laurie back to share a fun, happy card with you! I have been a bit obsessed with rainbows lately which are VERY trendy in the cardmaking world!
Now, I have quite a few alphabet die sets including tall and skinny sizes. But when Concord & 9th came out with the Tall Type Alphabet, I knew I just had to have it! And the co-ordinating stamp set they've created is just genius!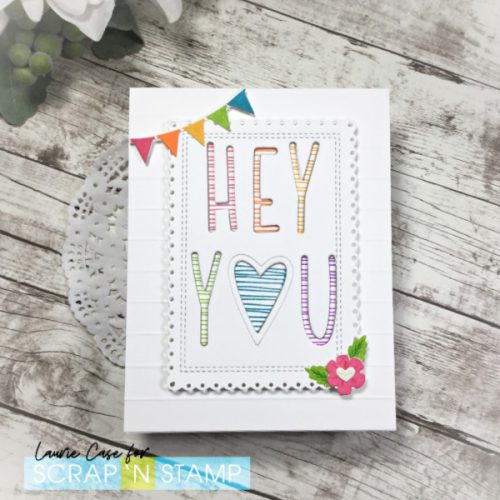 I started by lining up and die cutting the phrase "hey you" in the centre of and A2 sized, white card panel. I then lined up one of the Fancy Scalloped Rectangle Dies from Lawn Fawn. After die cutting the panel, I noticed there was room for more! So, I added one of the Just Stitching Double Rectangles. Unfortunately, I was a little "off" but I carried on!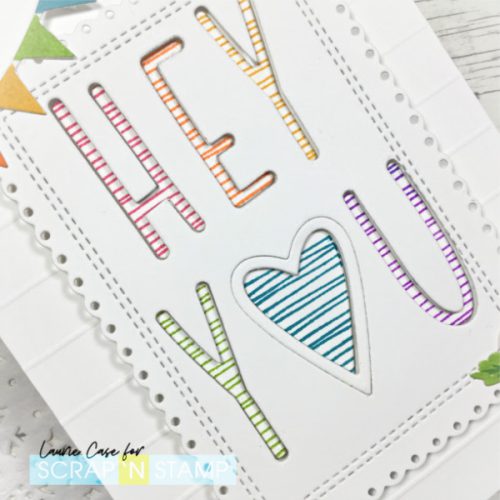 I used the fun Playful Patterns Stamp Set to add these fun lines to the positive die cut letters. I, of course, used a rainbow of colours. Before adhering the die cut panel, I scored the front of the cardbase every 1/2 inch to give some texture…I'm slightly addicted to doing this as well!
The foam adhesive I used was quite thick (found it in my desk, I've had it forever) but I love the dimension it gave. I used liquid glue to adhere the stamped letter die cuts back into their respective spots.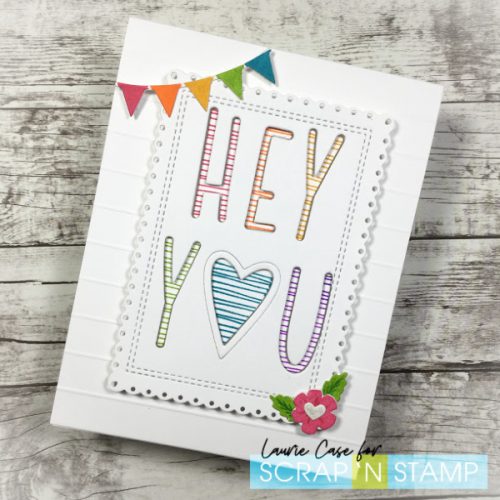 Instead of leaving it there, I added a banner and flower to the corners. These both come from the Globe Greetings Die Set, also from C&9th.
All in all, I'm pretty happy with the way this turned out but I think if I made this again, I would leave the flower off!
Thanks so much for popping' in today.! Have a great weekend and I'll be back soon!
Laurie