Happy Tuesday!
I know… that's not how it works, we don't blow hugs. We blow kisses… but my challenge word today is "BLOW" and my card is sending hugs, so it is what it is.
This card really feels to me like a comedy of errors.  Every step seemed to turn into a hot mess and yet somehow, I cleaned it up a bit and made a card.  All those errors were exhausting though!  LOL.
My mission was to use the Alcohol Ink Air Blower, since it was a new tool in my stash that I hadn't used yet.  I had aspirations to share some fabulous technique with you and even attempted to record a video… but I hit a few bumps along the way.  The first of those being that I have no idea where my alcohol inks are right now.  Once I gave up on finding them (I've got an inner ear infection right now and "looking high & low" just makes me dizzy!) it occurred to me that I could try blowing some of my spray inks!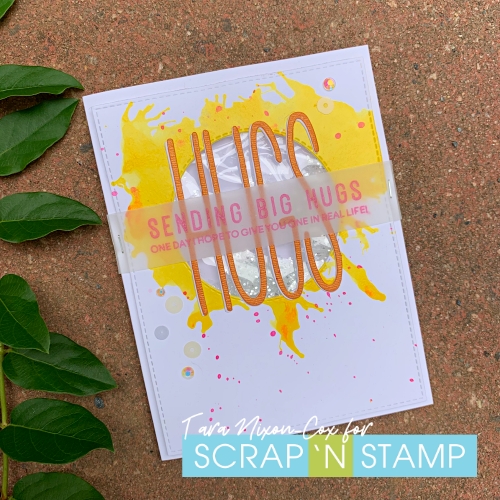 I selected my Dina Wakley Gloss Sprays since they are less absorbent than some of my others and I knew they would move around on the papers well.  It's been a while since I played with them, so I had to re-learn a few things (like how they don't work too well for smooshing two papers together to transfer ink!) but I finally started to figure them out and came up with this.  I've also got a whole pile of backgrounds that are ready to be transformed another day!
For this card, I simplified and skipped the color blending- working with just the Lemon Gloss Spray.  I poured a small puddle on a piece of white Cardstock and used the blowing tool to spread it out into a splatter design.  I was planning to use the Twiggy HUGS I had die cut from metallic orange card stock, so I knew yellow was a good choice! Once the paint was partially dried, I added some splatters of the Magenta Gloss Spray on top.  You can see where the colors blended together in some spots giving a bit of orange to the design.  These sprays really pop, and give off more gloss depending how thick they are painted!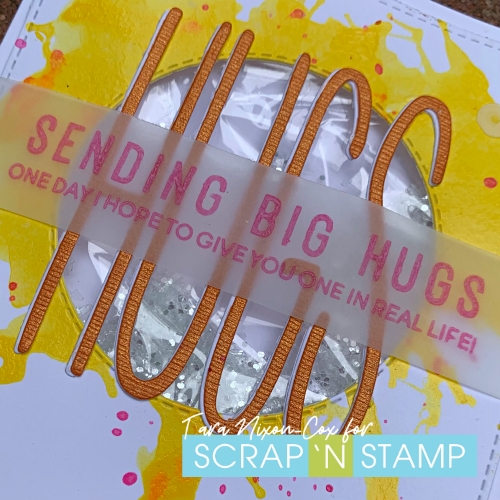 I die cut a large stitched rectangle panel so I could mount it onto a white card base.  When I played around with the placement of the word, it just didn't seem like quite enough (even with the addition of the sentiment duo by Heffy Doodle). Then I remembered the stitched circle from the Picket Fence Slimline die set, and decided to turn it into a shaker card.
This is where I had more of a hot mess… as I'm sure you can see by all the wrinkles (aka texture) in my shaker window!  I wanted to do a simple pocket style shaker, so I reused some packaging from one of my clear stamp sets.  I got the brilliant idea to seal the edges with my hair straightener (since I haven't been using it on my hair with all the humidity lately!) and if I was a bit more patient it probably would have been a brilliant idea.
What I did right: place the plastic pocket between pieces of paper so that the plastic wouldn't melt onto my straightener.
What I did wrong: forget to turn down the heat once it finally warmed up.
I doubt I need to say much more than that… since you can clearly see that things got a little too hot and got all wrinkled up on me!  So much for straightening, eh? LOL
I was pretty tired of the mess I was making at this point, so I decided to just go with it and share my lessons learned with you!  I did manage to keep it together when I stamped my sentiment on vellum and left it overnight to dry.  (I used Picked Raspberry Distress Oxide Ink).  I finished it off with some sequins and a touch of Studio Katia bling, and overall I like it.  Maybe I'll try it again and work out some of those wrinkles… If nothing else, I hope my hot mess makes you smile!
Inky hugs,
Tara