Happy Tuesday!
Did you check out the Side Order Blog Hop over the weekend?  If not, there's still time to hop along with us… leave comments and maybe even WIN your own Sizzix Side Order set 🙂  Check it out HERE.
I have to say- the hop really got me inspired for some spring & Easter creating!  And since I was having so much fun with my Side Order, I decided to make a card with it as well… pretty impressed with myself that this project uses ALL the elements in the set, plus an extra egg I had leftover from my art journal page 🙂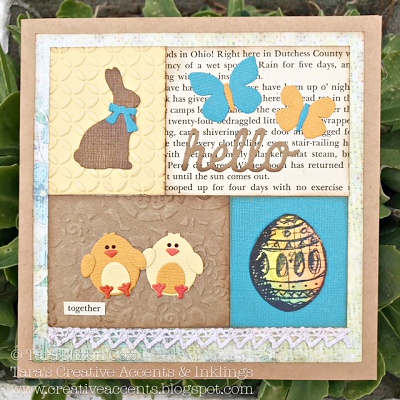 I created a simple grid, starting with the pair of chicks on an embossed background.  I trimmed the card stock to size, then measured my next panel (the chocolate bunny) which I also wanted to emboss using the tiny embossing folder that came in the set.  I made sure my paper was slightly smaller than the embossing folder and then adhered the bunny to the background.  I die cut the bunny out of yellow card stock, since it was handy, and inked it up with a couple shades of brown Distress Oxide.  I love the creamy, chocolatey look it gave me!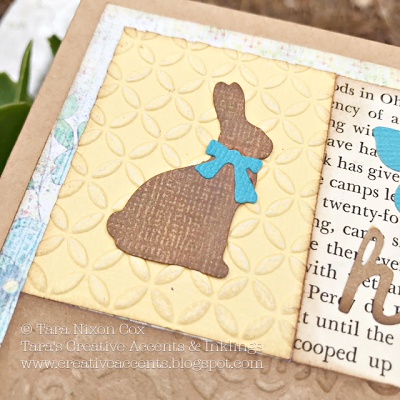 Once I had two pieces to start with, I cut the other two grid elements to match the height & width of the others.  This would be an easy card to mass produce once you had all your measurements!  I tried a variety of backgrounds for my butterfly panel… but in the end I went with a classic book print (torn from a vintage book!).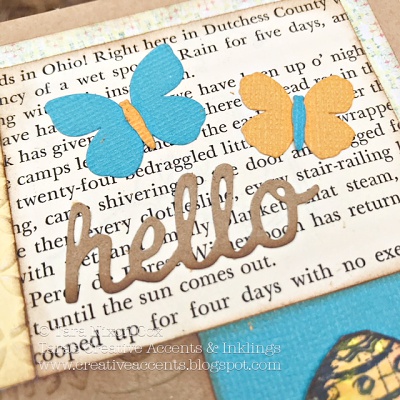 My pair of chicks show what you can get by cutting the entire die from two different shades of yellow and adding a bit of marker… they make a cute little couple!  I cut the text from a scrap of book print left from that panel.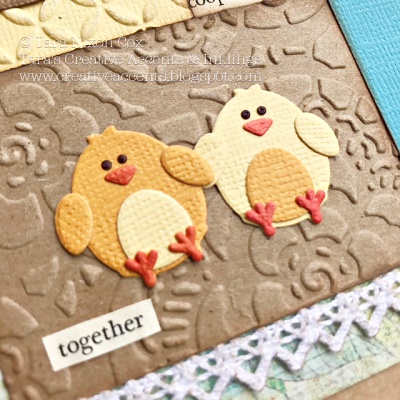 Lastly, I used a stamped egg.  This colorful cut out inspired the colors in the card and helped me to limit my palette 🙂  As you can see, my grid did not end up square.  Since I was mounting it to a square card I added a bit of lace to add balance.  For contrast, I layered it all on a piece of patterned paper (from my extensive 6×6 pad stash- love those things!).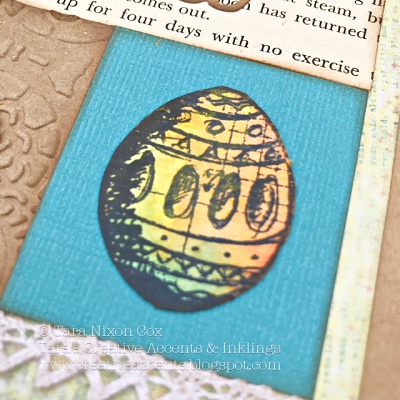 And that's my card!  I hope you can find some time for Easter creativity and maybe enjoy a chocolate bunny or decorating eggs… and hopefully you see a bit of sunshine as well!  Have a blessed Easter!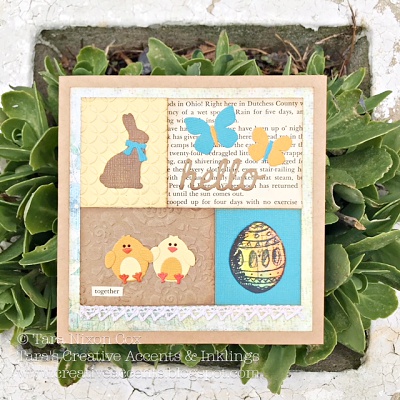 Inky hugs,
Tara
Materials Used:
Tags: card, Easter, side order, tim hotly