Happy Tuesday!  I'm sharing another throwback card this week, this one takes me back several years and came to mind as I was thinking about projects that would work for non-traditional Valentine's Day cards!  The sentiment here is so fun with a variety of coffee images, and just happened to come with this fabulous one by Penny Black.
And now let me jump in and show you my card!  I fell in love with this cutie from Penny Black "Saying a Latte" and have been saving her- I've been out of practice coloring with my Copic Markers, except for small images, but she was a fun one to play with!  I actually have 2 cards featuring her to share (since I colored a backup "just in case I mess up" image as well).  Since I knew coloring was going to take a bit of time, I kept the rest of my design pretty simple- stamping my sentiment on a panel die cut with MFT's Stitched Edge die.  I also just got the  gradient square stencil by Tim Holtz and the angles seemed like a perfect match!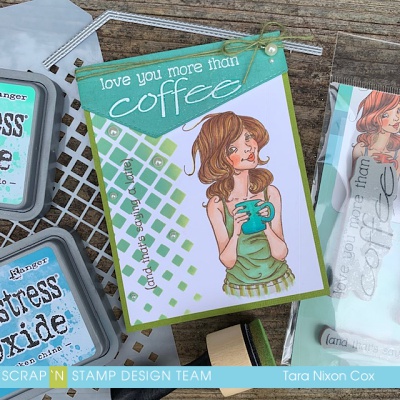 I used a mix of Distress Oxides on the stenciled details, but I'm not even positive of all the colors because I used a dirty ink blending tool. LOL. (note to self- buy more blending foams!)  I knew the Cracked Pistachio would match my die cut panel, but the rest was just trial and error! I figure you really can't go wrong with a mix of blues & greens- they are my happy colors!  A few pearl details & twine added some subtle embellishments to my simple card.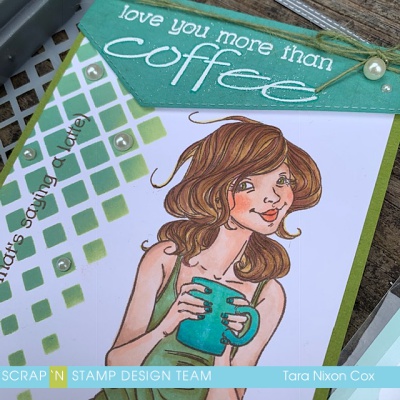 And here's one last pic with the two cards together- the other is free of embellishments, but very similar in design!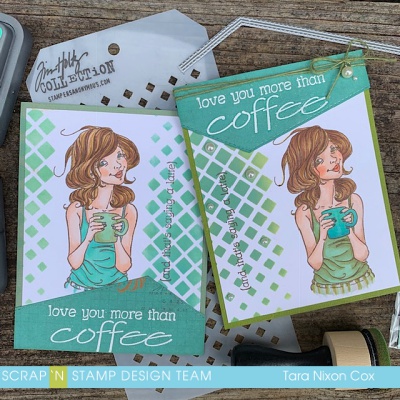 You can tell this is an older card since it also features an older watermark… but great stamps & creative cards will stand the test of time!  Whether it's a new-to-you card or you've seen it before, I hope you like it!  Bonus- the stamp & stencil are both still available to purchase in the SNS store!  Happy shopping!
Inky hugs,
Tara