Happy Tuesday!  Today I've got a card inspired by my sister, Joy.  She is a giver of AMAZING hugs and she recently welcomed a snuggly tabby cat into the family… so I decided to pair a snarky cat stamp with the Twiggy Hugs die by Memory Box!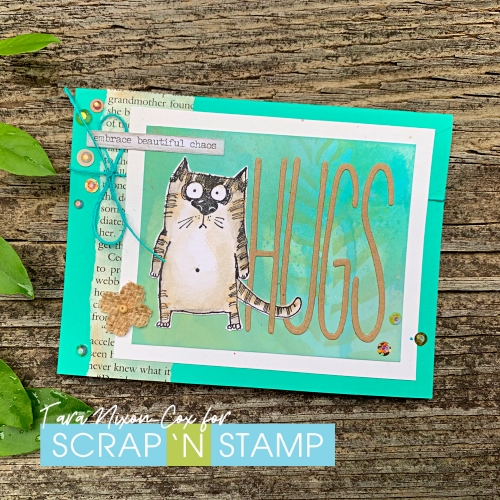 I did some simple, scribbly watercolor on the cat and cut him out of white card stock.  I cut the 'hugs' from a variety of papers, but decided on simple Kraft on an inked background (which I did during the same crafty session as the one in my first- and only so far, ha!- video).
The rest of the card is pretty simple assembly- a scrap of book print, some sequins, bling, twine & a sticker.   I did make sure to wrap his little tail around the letters like a bit of kitty cat affection.  I love how the height of the cat is so similar to the height of these letters!  They will be fun to work with and I've got a few ideas brewing for things I can pair with them…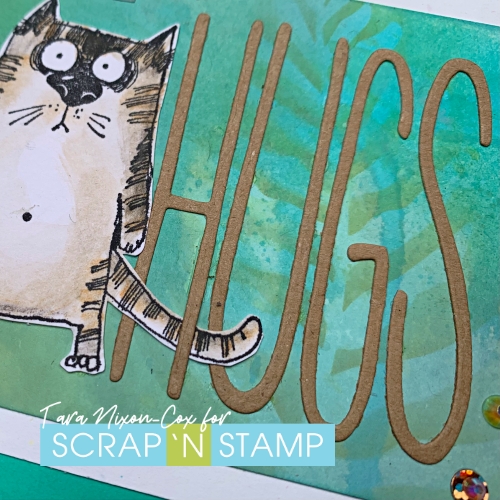 I'm sure looking forward to the day when I can get big hugs from friends & family that are so far away… but for now, paper hugs like this will have to do!
Inky hugs,
Tara