Happy Tuesday!
Today's card started out very simple and grew into a vintage collage that I had so much fun putting together!  I knew I wanted to work with ribbon, so a wreath is a perfect way to display one.  This little one from Tim Holtz's Wreath & Snowflake die set is really cute and I'd never even cut it out before!  I chose to layer together two wreaths, one from a (not quite big enough) piece of inked cardstock and the other is solid green.  I did the same with the berry dies and it gave me a nice variety to work with and pair with the crinkly ribbon bow.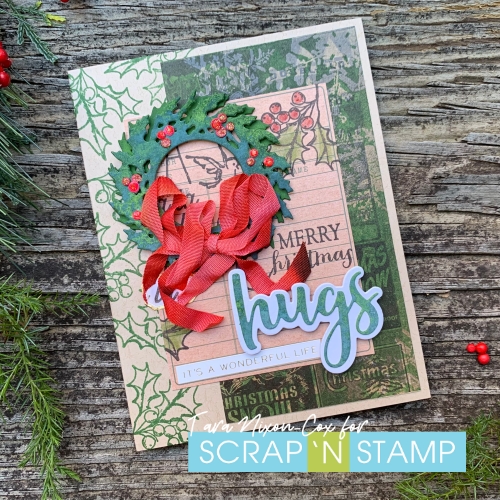 Last time I used this set, it was for our 'snow much fun' blog hop (you can see my card on instagram or my blog) and I used the same die cut 'hugs' sentiment!  I'd cut it twice since I wasn't sure which way I wanted my layers to go, so today's card seemed like a perfect chance to use it.
Honestly, the rest of the card just kinda came together as I flipped through paper pads and stamps that were nearby on my messy workspace (seriously, has anyone got tips how to clean this mess up without getting distracted by all the pretty things?)…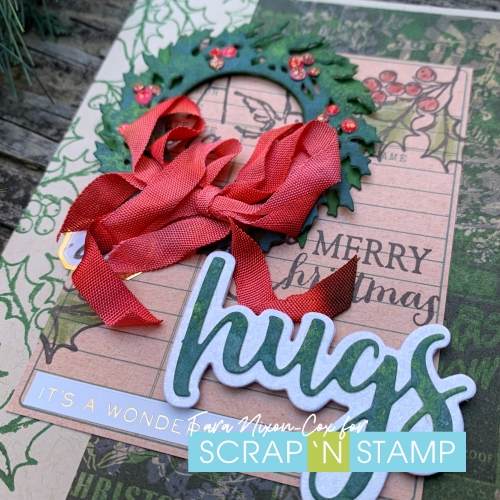 The library card is from Vicky Boutin, the holly stamp is by Tim Holtz and the rest are old wooden stamps from Art Impressions & Hero Arts I just love to throw in the mix sometimes.  I had fun adding in some metallic stickers & a touch of Nuvo glitter dots as well!  That background paper is some OLD Tim Holtz Kraft resist gorgeousness with some Rustic Wilderness Distress Ink over it.  I added a bit of a Distress Ink/ Distress Marker combo to add color to the holly on the library card.
Thanks for stopping by!
Inky hugs,
Tara