Hey guys!  I am so glad to be back and today I am channeling Jennifer McGuire!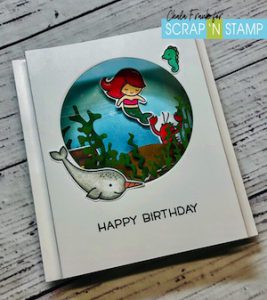 I have been searching through some of my favourite card videos on YouTube for inspiration and I came across Jennifer McGuire's video on shadow box cards and it look easy enough to make so I thought it would be fun to try for my niece's birthday.  Honestly, I was just hoping that it wouldn't turn out as one of those epic Pinterest fails!
After searching through my stamp inventory I pulled out several older stamp sets from Lawn Fawn.  Mermaid for You, Fintastic Friends and You are Sublime.  I love that Lawn Fawn's stamp sets can be combined to create so many different scenes.
To create the shadow box I used Lawn Fawn's 80lb White cardstock cut down to  6 1/4″ x 5 1/2″.  You will need to cut two of these, one for the front and one for the back.   Next it is time to score the cardstock.  Laying the piece so that the longest side is horizontal on your scoreboard you will score each side at the 1/2″ mark and at the 1″ mark.  Do this to both sides and for both pieces of cardstock  (see video below to see how this is done).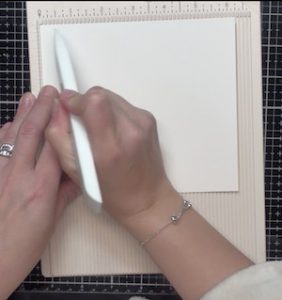 For the window of the shadow box you can use any shaped die you have on hand.  I think the next one I make I might try a star…However, this time I stuck to something simple and used the MFT stitched circle dies.  I centered the die in the upper portion of the card to leave room for a stamped sentiment underneath.  I then ran this through my Gemini Jr. die cut machine.  This will be the front of your shadow card.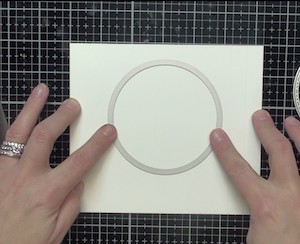 Now moving on to the back of the shadow box.  I want this portion to be where the scene is built.  To create the underwater feel I will doing some distress ink blending with my Picket Fence Life changing Blender Brushes in the colours Faded Jeans, Salty Ocean and Mermaid Lagoon.  To give a more "underwater" water feel I spritzed and sprinkled water onto the Distress Ink blending and then blotted with a microfibre cloth.  This left an under water bubble feel to the piece.
I also created a sand hill in brown cardstock with the Lawn Fawn Stitched Hillside Borders die and I added the look of further dimension by ink blending the edges with Ground Espresso.  I also found some seaweed dies (I am not sure where I got these from…) and die cut from two different colours of cardstock and also did some Distress Ink blending on those as well.
Moving on to the front of the card, I stamped the sentiment "Happy Birthday" from the Lawn Fawn – Hay There set on the front of the card with Versaclaire Nocturne Ink.
Now it is time to fold the edges of the cards.  For the back of the card you will fold in at the innermost score lines and then back down. For the front you will do the opposite so that the pieces will fit together.  It is probably best to see how I did the on the video below.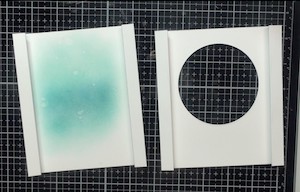 The next step is to stamp out your character and scene building images.  I did this with Memento Black Tuxedo ink so that I could colour them in with my Copic markers and then I fussy cut them out.  Now it's time to build the scene.  Laying out the scene I popped the sand hill up with some square adhesives, and with the help of some reverse tweezers I glued the other elements down with some Tombow Multi Glue.  To add to the 3D feel of the card I cut down a thin strip of acetate and adhered the mermaid image onto it with Be Creative Tape and I will suspend this in between the two pieces of cardstock to look like she is floating.  I will adhere the two pieces together with more Be Creative Tape and that will finish the card.  You can adhere this whole piece onto an A2 card base if you like – but if you are planning to send it in the mail it will add a lot of bulk and you will want to add extra postage!  I decide to just write my message on the back.
I hope this card inspires you to create some 3D scenes.  Here is the video of how I created today's card.