Welcome back to the blog! I cannot believe how fast summer has come and gone! I wanted to hang on to that "Ooooh oh…those summer nights" (Insert your best Olivia Newton John and Jon Travolta voices here) feeling by creating a fun light up card using the Lawn Fawn Butterfly Kisses and Little Fireflies stamps as well as showing you how you can add a new dimension to your cards with Chibitronic lights!
There is a lot going on in this card and I just can't show you the cool light feature in pictures very well….so I am going to direct you to watch it all come together on the YouTube video below. I will have a list of materials and links on where you can find them at the end of this blog.
If you liked today's card please remember to leave a comment here on the blog or on my YouTube channel to let me know! We love to hear your comments and if you have any questions about the techniques we show we would love you help you as well!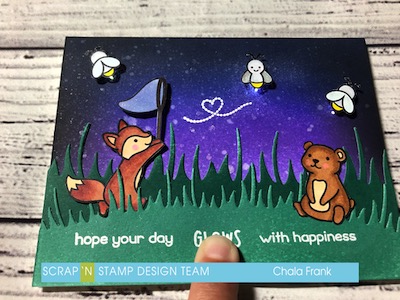 Remember to share your creations over at our Scrap'N Stamp Challenge Page! We love to see what you create!!
Enjoy these last summer days!
Chala, xoxoxo