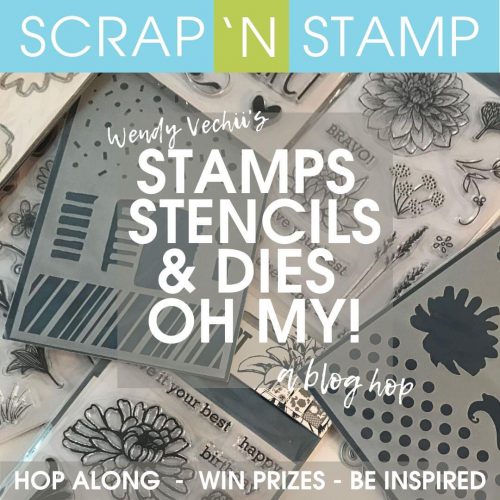 Welcome to our May 2020 Blog Hop!   This month the team is show-casing some great sets by Wendy Vecchi which include coordinating stamps, stencils & dies.  The sets will be 20% off in the SNS online store until May 7.  You can see all the current specials, including this one right HERE.
As always, we encourage you to please leave us some comments along the way!   We will be selecting one person from the comments to win a $50 gift certificate to spend in the SNS online store (to be announced May 14).
I am using the "A Million Thanks" set, and since I've shared cards with it before (see them HERE) I decided to challenge myself and use parts that I hadn't worked with on my other cards.  This meant working with the butterfly stamp & die, a sentiment I hadn't used yet.  I also challenged myself to use the background stencil pattern.  I had a good sized scrap of water color paper which I had inked up doing some clean up on my work space (I've been using Wendy's Make Art STAY-tion and it's pretty great!) and I decided to work with that.  I inked up the stencil with some Wilted Violet Distress Oxide and since it's small, I repeated it to cover the strip.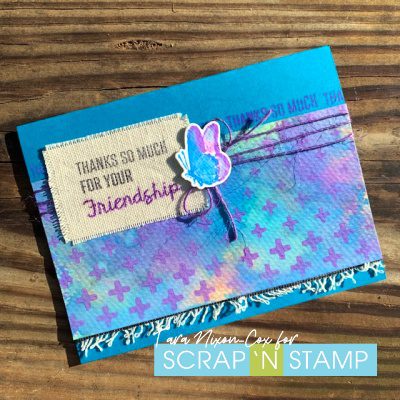 I decided since I was working with small images, I should go add some texture to keep it interesting.  I stamped the sentiment on a piece of canvas  I had and set it aside to dry for a while before I trimmed it down and frayed the edges.  The butterfly was also stamped on water color paper in Distress Oxide Ink, then blended with a water brush.  After I had all my pieces, I tried several layouts before I settled on this one, which allowed me to add more texture with some fringed ribbon and twine.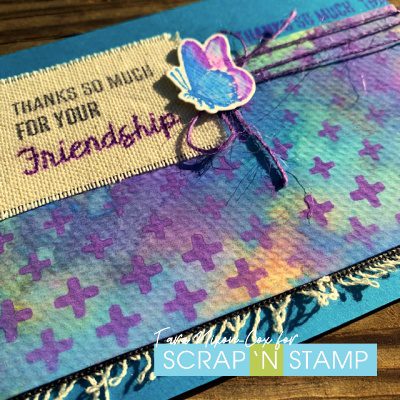 And that's it!  It's a pretty fun set with some neat elements, I think you'll see them used somewhere else along the blog hop… but you can also look at my previous post to see what else this set includes!  You can see all sets, which are on sale until May 7, right HERE!  I know I have a  few on my wish list, I'm sure you will too!
Next up on the HOP is Nancy, and I think she's actually featuring the same set as me today!  Here's the full hop order- PLEASE take a moment to leave us some comments, it encourages us so much!
Inky hugs,
Tara