Hello!  I thought since Easter is literally right around the corner, it'd be fun to share some crafty Easter eggs with you!  Today I'm sharing a project from a couple of years ago… but check out the link that goes even farther than that for a fun tie die technique that you can do on real eggs as well if you're feeling ambitious!
Hope you enjoy this ThrowBack Thursday:
As I was reminded of a project I shared here back in 2017, decorating Easter Eggs with alcohol ink, I thought it would be fun to use my paper crafting/ art supplies in another way on eggs.  This time I decided to start with simple plastic eggs, available almost anywhere this time of year and to do some simple decoupage on them.  I started with a matte gel (mine was by Prima, but this one from Ranger, or any 'matte medium' will work just as well!) as my adhesive to adhere torn strips of book paper to my eggs.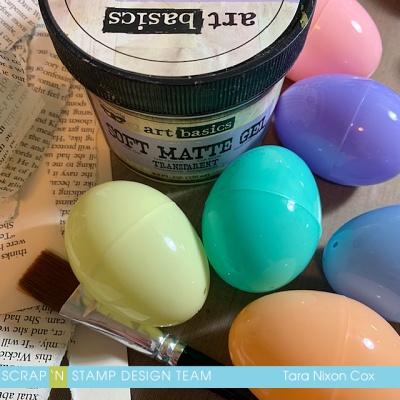 I worked in two steps, first covering about half the eggs, then finishing it off once the first part was dry.  This gave me a dry spot to hang onto while I worked and kept me from getting quite as much stuck to my fingers 😉  The eggs dried fairly quickly, though I let them sit overnight before moving on to the next phase…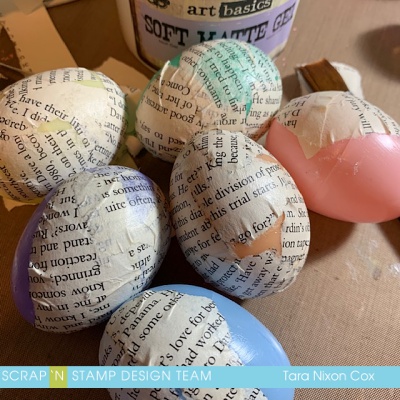 I decided to experiment with different coloring mediums, but primarily wanted to see how Distress Oxide sprays (you can save on the new set of 12 sprays here) & ink pads would work!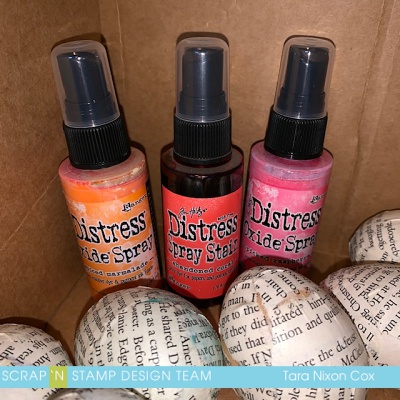 I started by spraying some of the original Distress Stain Spray onto a couple eggs, then quickly realized I would need to start with a coat of gesso to make it work best, so I wiped off my eggs with a cotton cloth and applied white gesso to all my eggs, misting with water to make it less opaque so I could still see the text.  This was also a great time to apply a bit of gesso thicker to a few spots where words I didn't want on my eggs had snuck in… )note to self, maybe don't use a murder mystery as your collage paper next time. lol).  I didn't snap a photo of this stage so you'll have to use your imagination!  I applied the Abandoned Coral to two eggs, then sprayed one with Spiced Marmalade Distress Oxide Spray and the other with Picked Raspberry.  I rolled them around in a box to capture all the angles, heat them with a heat tool, misted some water to get it to oxidize… and eventually finished them off by blotting again with a cotton rag.  I love the soft chalkiness of the color and the fun mix I got where the original spray shows through!  As a bonus, my fingers were nice and inky (though I did wash my hands between colors to keep my colors more pure).
Next I decided to see how the Distress Oxide Ink pads would compare- so I used a foam blending tool and picked my colors.  For this, I just applied ink & blended, then misted with water, wiped dry and added another layer.  Both techniques worked fabulous!  This photo shows that the colors are just as intense, though the inking is more mottled and organic looking on the eggs that I sprayed.  Whatever you use, be sure to mist with water as this will help set the oxide ink and keep the color from spreading over the other eggs (and onto hands that pick them up to have a closer look!).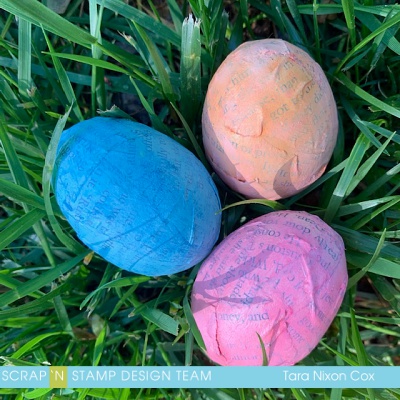 I had some collage tissue I wanted to try as well, so I did some simple decoupage of torn tissue onto my colored eggs.  I thought about adding more to these, but decided to leave them as is to let the design and color of the eggs show through!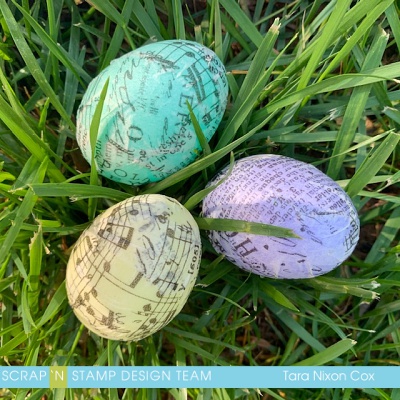 The tissue technique was much faster since it only took one step, but the final look will depend what color your original plastic eggs are 🙂  here's a peek at my little basket of eggs-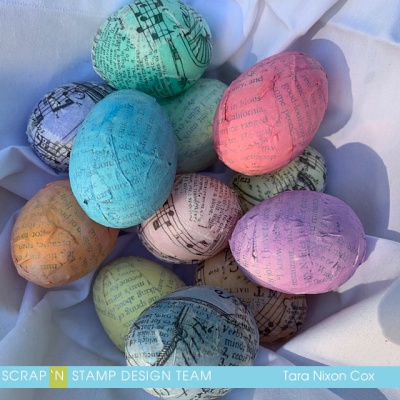 I hope this inspires you to pull out your supplies and have some mixed media fun for Easter!  The possibilities are endless…
Inky hugs,
Tara