Happy Tuesday!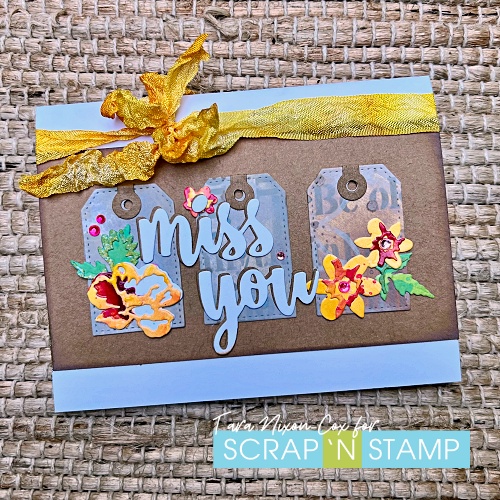 Today I'm sharing a card made with some of the pieces you will have seen me prep in the last couple of Crafty Lives I've done on our Facebook page!  Two weeks ago I showed how I create these fabulous Crinkle Ribbons and last week I made some neutral toned inky backgrounds ready to be die cut as tags!
I finally succumbed to the temptation and got the mini brushstoke flower dies by Tim Holtz– they are sooo cute, but have intimidated me because they are so tiny!  I had some inked up (actually Dina Wakley Glossy sprayed up) backgrounds from a previous project and decided to cut a few of them out.  They turned out really cute and were such a fun addition to the smallest of the tags I die cut!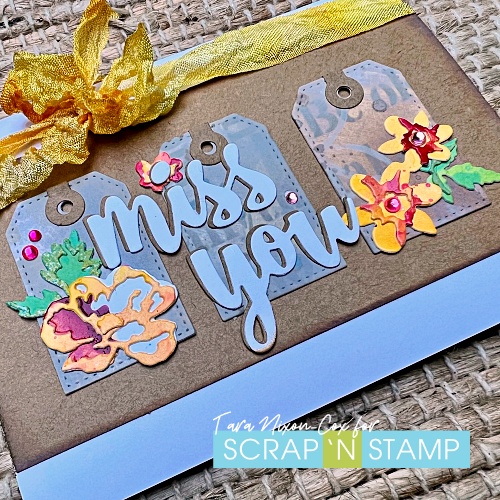 I paired the little tags with a bold sentiment that overlaps the tags, bringing them together as one focal point.  (This one by MFT is out of stock, but here's another fab die set!).  The addition of one tiny flower behind the dot in the 'I' and a few pink jewels helps everything flow.  I stuck with neutrals for my background in contrast to the vibrant colors of the flowers and finished it off with a pretty yellow ribbon!
Hope you like it and that it gives you some inspiration to use up some of the fabulous inky scraps you have on your work space!  Pull out some die cuts and see what you can do to make a future project quick & easy!
Inky hugs,
Tara