… martini? 😀  Today's Random Act of Cardness prompt on the Scrap 'n Stamp challenge page is WHITE! Here's my take on a white card: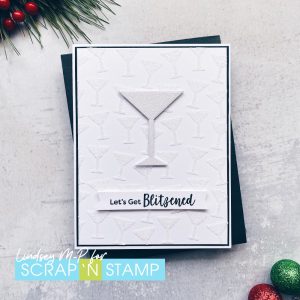 I don't know about you, but some days when the holiday crunch is getting to me, this might just about sum up how I feel. 😀  As a festive card, I wanted lots of sparkle, so I started off with a Picket Fence martini stencil and some moonstone Nuvo glimmer paste. While that dried, I cut the My Favorite Things martini glass from some white glitter cardstock as well as two more from regular cardstock so I could layer them together. I also added a couple of layers to the MFT sassy sentiment, which I embossed with some sparkle embossing powder. I think we all know how tricky shine is to photograph, but this close-up at least gives a hint: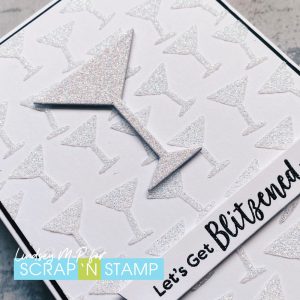 If you're still working on holiday cards, I hope you'll consider making a white card of your own, and adding it to the challenge page for a chance to win some Scrap 'n Stamp spending money! Thanks for checking in today.