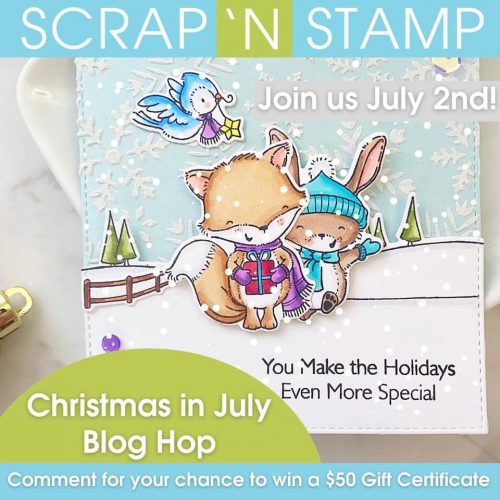 Happy Blog Hop Day!
I'm not one of those people who work on their Christmas cards all year long… and I'm not one who does more than one or two Christmas cards in July.  However, I DO buy Christmas stamps after Christmas and our blog hop today gave me an opportunity to make a card with one such stamp set that was at the top of my wish list in 2020.
But first, let me tell you about our blog hop!  We've kept the theme pretty flexible this time, so you'll see a variety of Christmas card inspiration ranging from elegant to cute and everything in between!  I'm always so impressed with the diversity on our design team, and I hope you enjoy it too!  You'll find the full list of blogs & links at the bottom of this post.  You can also enjoy some Christmas shopping in the SNS online store this weekend- lots of fabulous Christmas items are on sale 20% off!  Have fun!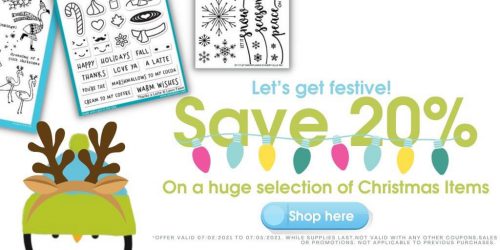 Today I'm using Sketch Greenery Stamps by Tim Holtz, which I fell in love with last fall when it was a new release.  I missed out on all the after Christmas sales, but still had to have this one when I found it this spring.  I love the mix of greenery and the collection of lovely, simple sentiments… and I can totally envision myself using some of these images during the rest of the year, too!  Just watch for it to show up in future projects 🙂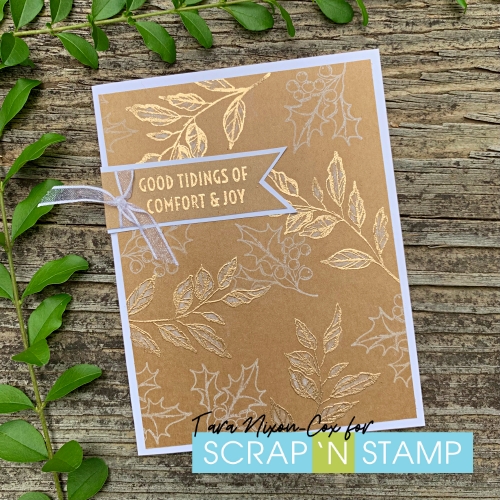 I kept things very simple for my card, going back to basics as it were by featuring gold embossing and plain white card stock with Kraft.  I stamped one of the greenery images multiple times and heat embossed with gold, then stamped the holly design with Picket Fence Distress in the open spaces.  I added a bit of loose color (aka I scribbled) to the gold leaves with a white watercolor pencil.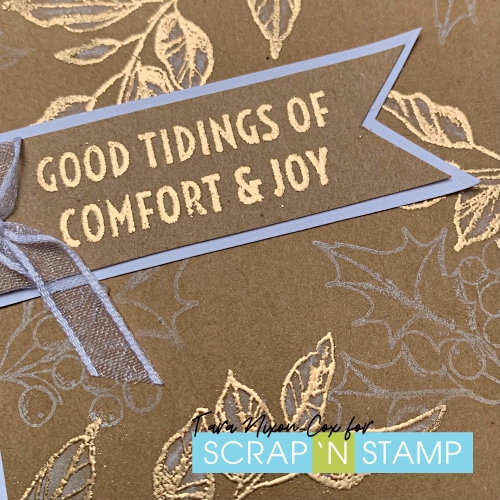 I selected one of the many sentiments in the set and heat embossed it as well, then trimmed it down and cut it into a flag shape before mounting it on a white layer.  I added a small piece of white sheer ribbon to the flag before gluing it all to my white card base.
As I said, I kept it really simple! Gold heat embossing was one of the first things I learned to do when I started stamping in the early 90's and it still makes me smile!  This card really is a throwback for me though… my VERY first project with stamps was making personalized Christmas wrapping paper on Kraft shipping paper!  So fun to think back about what started it all!  I'd love to know, what was your first stamping project?
Next up you're going to hop over to see what KIA has made!  And she'll keep you going from there. If you need it, here's the full hop list:
Happy Hopping!  I hope you're inspired to get going on some Christmas makes… or at least that it gives you a bit of a mental cool down in the midst of all this heat 🙂
Inky hugs,
Tara