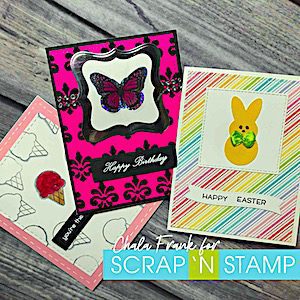 Hey Crafters!
Anybody else feel like.. What the Flock is going on in the world today?  Well…I am going to embrace the isolation and get to know some crafting materials I haven't played with before.  Thankfully Scrap'N Stamp is still able to deliver and I ordered some Deco Foil Flock Transfer Sheets.  There are so many fabulous colours to choose from…and of course I ordered as many as I could!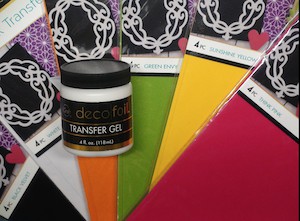 As soon as I saw these I had several ideas come to mind.  The first was to incorporate our current stencil theme and I created a super chic birthday card with the Fleur de Lis stencil from My Favourite Things.  I think this will work really well with any flourish or geometric stencils.
You will also need the Deco Foil Transfer Gel or the Duo Gel  and a laminator (or iron).  With the help of my Wendi Vechhi Make Art Stay-tion and a craft pallet knife I spread a thin layer of the Deco Foil transfer gel evenly over top of the stencil.  I removed the stencil and set the wet stencil piece aside to dry for about an hour. The transfer gel starts off as white and will dry clear.  Remember to wash your stencil with warm soapy water right away.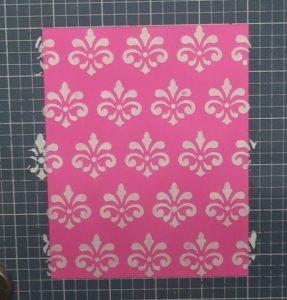 While the gel is drying I went ahead and prepared the rest of my embellishment pieces by die cutting some elements from mirrored and white cardstock  I also took the time to preheat my laminator for a good 20 minutes.  Once the transfer gel has dried clear, place the Deco Foil Flock sheet fuzzy size down on to the dried transfer gel.  I use parchment paper as my carrier sheet and I ran it through my laminator twice to ensure good adhesion. Then, gently peel back the liner paper off the flocking.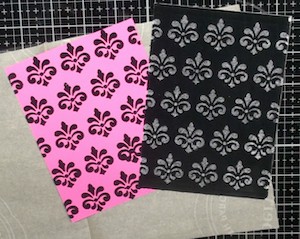 I am so pleased with the outcome of the black flocking on the hot pink cardstock.  It reminds me of the old textured wallpaper that people used to have, so gaudy looking but so awesome at the same time!  I used my Elizabeth Craft rectangle dies to add more interest and a decorative edge.
I found some jewelled ribbon in my ribbon drawer that adds just the right amount of bling to the background and then use Gina K Connect glue to adhere it to the panel, making sure I wrap the ends around to the back.  I secure the panel down onto some Lawn Fawn Black Liquorice cardstock and adhere it to an A2 side folding card base with foam adhesive.
I layer the mirrored and white cardstock element pieces on top of the jewelled ribbon securing the pieces with Be Creative Scor-tape.  During one of my trips to my local dollar store I scored big and found some gorgeous 3D butterfly stickers that worked perfectly for the main element of this card.
I then chose a simple Happy Birthday sentiment in a script font stamping with VersaMark ink onto some more black liquorice cardstock and heat embossed with white embossing powder.
I think this card is so elegant looking and I have someone very special in mind to give this to!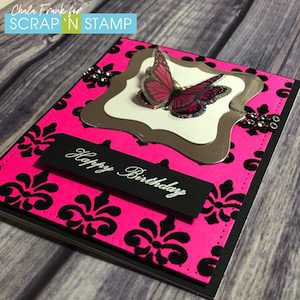 For my next card I wanted to show you that you can use the Deco Foil Gel and flock sheets without stencils as well!  I stamped a background with the ice cream from Lawn Fawn's Sweetest Flavor and in Hickory Smoke Distress Ink.  I want one of the ice creams to stand out so  I use a paint brush and paint the ice cream mound with the Decal Foil gel.   Again you will know it is ready to flock once the gel dries clear.  This time it was a bit trickier to tell when it was dry as it was on top of white card stock.  I followed the same procedure as my first card, layering the flock fuzzy side down, wrapped in parchment paper and I ran it through the laminator twice.  I must not have put enough of the gel on as it was a bit spotty in areas.  That's okay though, I used my copic markers to gently darken in the area with a similar colour.  I did very simple colouring and shading and did another black sentiment strip with white embossing.  I layered this panel onto light pink cardstock and used my white gel pen to add a boded of white stitch lines.  To give the ice cream an extra special look I added a tear drop crystal from Studio Katia adhering it with Glossy Accents.  The glossy accents, jewel and flocking made a realistic textured look to the ice cream.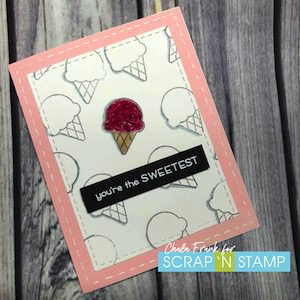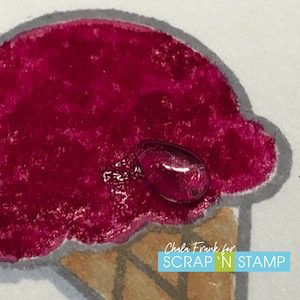 As soon as I saw that Sunshine Yellow flocking I knew exactly what card I wanted to make! I also wanted to try using my Silhouette machine with the flocking. The one thing you want to remember is that you will need to cut the flocking with the white backing piece up.  Otherwise, the blade just scrapes off the flocking.  See the photo below.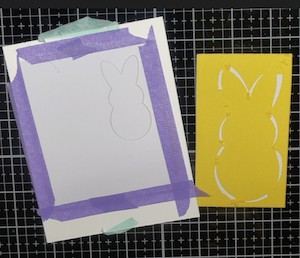 I taped down the flocking onto a piece of cardstock with some purple thermoweb tape and then stuck that onto the adhesive carrier sheet.  You do not want to place it down directly onto the adhesive carrier sheet as all your flocking will stick to the sheet!  I cut a simple bunny silhouette shape to create this fun "Peep" card!  I used a copic marker to add the little face, I used several Lawn Fawn products including the sentiment from the Easter Party stamp set, die cut banner from the Double Slider Surprise die set and the Really Rainbow cardstock worked so well as my background.  I love how this one turned out!  So cute!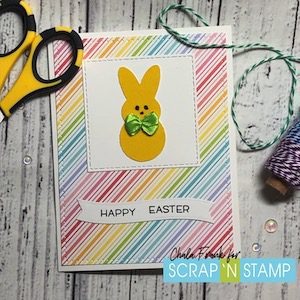 I can't wait to use this flocking on other card creations and I hope that these cards inspire you to add some flocking to your cards.
Stay safe and crafty!
Stay safe and crafty!
xoxo, Chala
~Crafting Through the Chaos of Life