Hello Crafty Friends!
Chala here for today's prompt word Advent!
I must admit this post is a sad one for me as it is my last post as a Scrap'N Stamp Design Team member.  I am going to miss being a part of this fabulous group of ladies and creating with them each month.  I also cannot thank you enough for all your comments and support over the last several years  You guys have been a huge inspiration to me!!  I am not leaving the crafting world, just taking a step back in the commitments I have made.
You will still be able to find me over on my YouTube Channel Crafting Through the Chaos of Life.  In fact, that is where this blog post will take you as my final Design Team submission is a bit of an involved one and easiest to watch on video than to describe.
Some of the items I will be using today are older sets and may not be available, so it gives us a good reason to reach into our stash, blow off the dust and reimagine them for a new use!  I will also be using several digital prints in today's card booklet.
Stamp and Die sets used/recommended:
Picket Fence Paper Glaze Golden Rose
Again, I encourage you to look through your stash for items you may already have that you can use!
Without further adieu….below is the video link for my fun Advent Card Booklet!  Enjoy!               https://youtu.be/FmuQpDQxyWU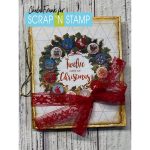 Much love,
Chala xoxox