Happy Tuesday!
We're more than half way through September so I thought it was time to do a project that's sorta back to school inspired… the theme over on the challenge blog is bookprint, and that's what I'm featuring on the background of my card!  I did some autumn inspired ink blending over the Funky Leaves stencil by Picket Fence Studios- using shades of Distress Ink.  It's a blend of Crushed Olive, Twisted Citron & Crackling Campfire.  Personally, I can't wait to see the leaves changing all around me and this card just gives me a little hint of it.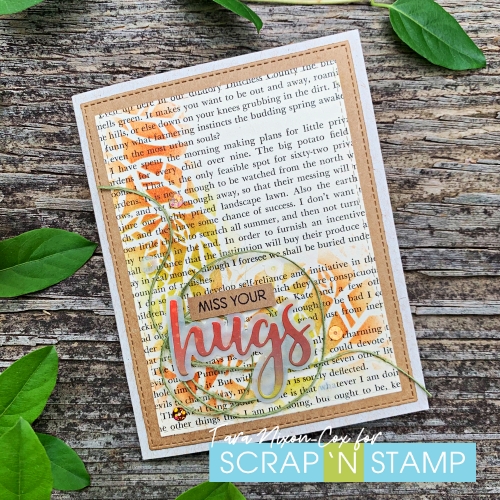 I had some fun blending the same colors on a scrap of paper, from which I die cut the 'hugs' die by Honey Bee Stamps.  The 'Bitty Buzzwords' stamp & die sets is a recent splurge for me (I rarely buy the matching sets, normally pick one or the other) and so far I like it!  You see a bit of brown in my blend as well, since I didn't get the tones I expected overlapping Crushed Olive & Cracking Campfire with each other.  I've been loving die cuts layered over vellum lately, so I was happy to find a small piece of vellum to work with here!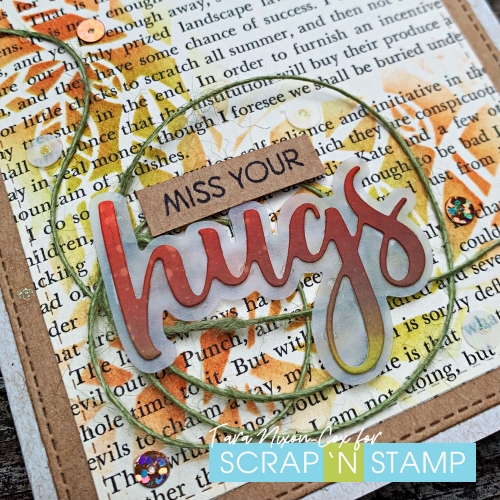 I finished off the card with a bit of twisted twine and some copper-toned sequins.  I stamped the rest of the sentiment on the same Kraft card base that I layered my bookprint onto.
I made a second very similar card, but it didn't photograph well (something funky happened to my colors) but if you'd like to see it, feel free to check it out on my personal blog!
Inky hugs,
Tara