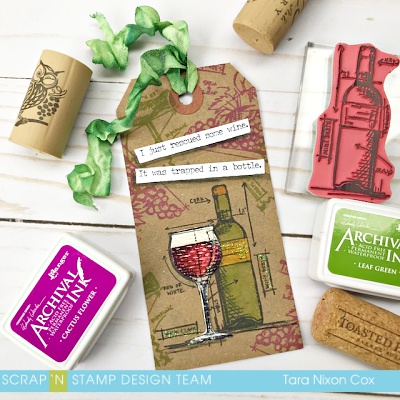 Happy Tuesday!  If your weekend was anything like mine, you may have felt like your only super-power was the ability to rescue some wine that was trapped in a bottle 😉  If  you know someone having one of those days (or weeks, or…) this quick little tag and a bottle of wine might be just what they need!  It's simple, but pretty fabulous I think… I know I'd welcome it if someone brought one to me!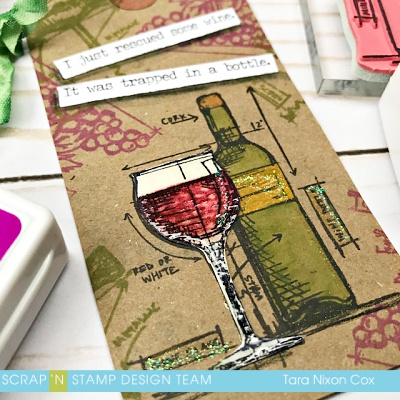 I've used the stamps from Tim Holtz blueprints WINE mini stamps- love them!  I stamped all in Archival Ink on a kraft tag, layering the wine glass slightly over the bottle and stamping a second time on a scrap of watercolor paper.  The grapes & corkscrew images were stamped with colored Archival Ink and I simply colored the images to match using Watercolor pencils.  A touch of glitter on both (Nuvo Crystal Drops) and a finish of Glossy Accents on the glass add that little something special.  And of course, a snarky sentiment about wine from Tim's new Small Talk set… love it.  I found some pre-colored krinkle ribbon in my little stash bottle to tie at the top (I tend to make this in large batches when I do so I can just grab a piece when I need it).  If you're tying it to a wine bottle for a gift, a bit of twine through the hole works perfectly!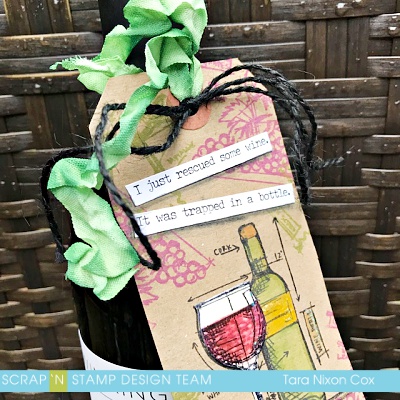 Quick & fabulous… just the way I like it!  Hope you like it too!  I'm loving these blueprints (they've been on my wishlist for a while, so you can expect to see more of them in the future!).   Cheers!
Inky hugs,
Tara
Materials Used:
Tim Holtz Blueprints mini strip stamp- WINE
Archival Ink Jet Black, Leaf Green & Cactus Flower
Prima Watercolor Paper scrap
Prima Watercolor Brush pen set
Ranger Glossy Accents
Nuvo Crystal Drops- White Blizzard
Tim Holtz Small Talk Snarky