Orange You So Awesome Encouragement Card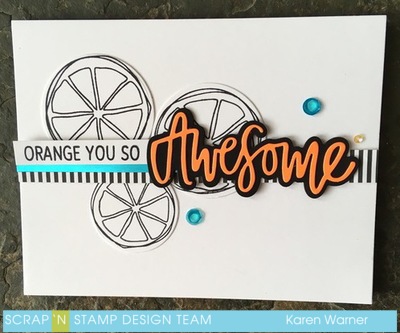 Hello Everyone. Thank you for stopping by. Todays  project is an encouragement card;  Orange You Awesome .
Concord & 9th's stamps and die are unique. They steer away from cutesy , or  child like characters and  focus on different innovative designs.  They have won numerous  awards for their  designs.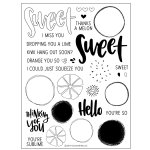 I used   Orange You Sweet Stamp Set and Orange You  Sweet Dies to construct this delightful card.
Ink to Paper:
Memories Black Dye Ink Pad was used to  stamp all of the images.  Orange rims first  and   then pulp section  stamps  inside  the rim. Both sizes were stamped  and  multiples of each  on  white card stock. Black and orange card stock sheets  from Bazzill Premium Paper  (100 sheet)  Pack  were trimmed  a smidgeon larger than the two piece  Awesome die ( from my stash).  A few oranges in both sizes were  cut with Orange You Sweet Dies. A press of the button and the images were cut  with  Crafters Companion Gemini Die Cutting Machine.
Sentiment Strip:
"Orange You So"  was stamped with Memories Black Dye Ink Pad on the edge of white card stock and trimmed to a .25 " x 5.5 " strip. MFT's Black & White Stripes 6×6 Pad  and Silky Sky  Tonic Mirror Card were also cut into .25 x 5.5 " strips. The white sentiment strip was shortened to 2.5 ".
 Be Creative 3mm tape  was applied to the reverse side of "Orange You So"  strip and then attached  on top of  Silky Sky Tonic Mirror Card ( this was trimmed to 3″).  The die cut word "Awesome" had  Nuvo Deluxe Adhesive applied sparingly to the back and placed precisely over the black  word shadow die cut. Once dry this was applied   between the layered sentiment and the edge of  last remaining full size strip. (MFT's  Black & White Stripe strip).
Card Assembly:
Three orange die cuts were formed  into a triangle on the left hand side of a  landscape card front  panel . Once I was happy with the placement they were adhered directly to the panel. "Orange You So Awesome" sentiment strip was applied centre horizontally to the front panel with 3 D Foam Squares  ( low profile).
The front panel was secured to a side fold landscape card with Nuvo Deluxe Adhesive. An inside card panel was trimmed to 4.15 x 5.5″.   MFT's Black & White Stripes 6×6 Pad    piece of  stripped paper  was trimmed to .25 x 5.5 " and adhered to the bottom edge of the inside panel. " I Could Just Squeeze You " was inked with Memories Black Dye Ink Pad and stamped a tad higher than centre. The inside card panel was attached to the inside card base with liquid adhesive.
Sequins to match Silky Sky  Tonic Mirror  was attached above and below "Awesome" and a small sequin attached above the "e" to form a triangle.
Orange You So Awesome Encouragement card is now complete. Until next time. xo Karen